DJVS strives to provide the best in primary care for your horse.
PREVENTATIVE CARE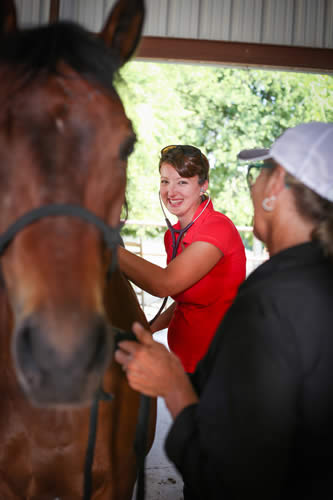 Most have heard "an ounce of prevention is worth a pound of cure." We can help you keep your horse healthy with:
General wellness exams
Vaccinations
Dental prophylaxis (floating)
Dental extractions
Custom deworming and feeding programs
TRAVEL DOCUMENTATION
We offer digital Coggin's testing and health papers for travel within the US.
We also offer Coggin's testing and health papers for travel outside the US.
Dr. Boeche is an official FEI-treating veterinarian who can answer your FEI-related questions.
SPORTS MEDICINE
Keeping your horse sound is important for their everyday life and well-being. Performing a thorough exam early is important to help identify the source of your horse's discomfort. We also offer:
Diagnostic analgesia (joint and nerve blocks)
Portable digital radiography
Intraarticular, intravenous, and intramuscular joint therapies
Acupuncture
Chiropractic care
DJVS wants to work with you and your farrier to keep your horse sound. Complimentary consultations with your farrier are included with every lameness exam. Immediate farrier attention is also available through Jason Terrell's Horseshoeing with over 20 years of corrective care experience.
PREPURCHASE EXAMINATIONS
Prepurchase exams are performed to collect data on a horse's current health status. Your future athlete will go through a thorough examination to better identify sources of lameness and potential medical problems. Radiographs, ultrasound, drug tests, and other lab work are available for an additional fee. These findings are meant to give you a better decision prior to purchasing and are not intended as a guarantee.
INTERNAL MEDICINE
Snotty nose? Chronic cough? We offer primary care for your horse's internal medicine needs.
INTEGRATIVE MEDICINE
Integrative medicine is the practice of both modern western and traditional ancient therapies. Dr. Boeche combines traditional western and Chinese medicine to best suit each individual's medical needs. Traditional Chinese medicine is great at treating the body as a whole with little side effects. The advances of Western veterinary medicine compliment non-traditional therapies, giving your horse the most complete care available.
In addition to her western veterinary educational background, Dr. Boeche offers:
Acupuncture
Chiropractic
Traditional Chinese veterinary herbal therapy
Just like with western medicine, not every patient may need or respond to alternative care. After examining your horse, Dr. Boeche will go over with you in-depth to see if your horse can benefit from these alternative treatments.
To learn more about traditional Chinese veterinary medicine and acupuncture, please visit: http://www.tcvm.com/About/WhatisTCVM.aspx.
Dr. Boeche is a certified veterinary acupuncturist from the Chi Institute and is currently completing her training in animal chiropractic care at Parker University. These services are also available to dogs and cats after consulting with your regular small-animal veterinarian.
SURGERY
Dr. Boeche is equipped to do routine surgeries at your facility. These include wound repairs, mass removals, and standard castrations (both testicles dropped).
Dr. Boeche services a wide radius around Granbury. In an effort to conserve diesel fuel and cut costs to her clients, Dr. Boeche groups calls and tries to service only one "area" each day.